2020 Tour D'Coop canceled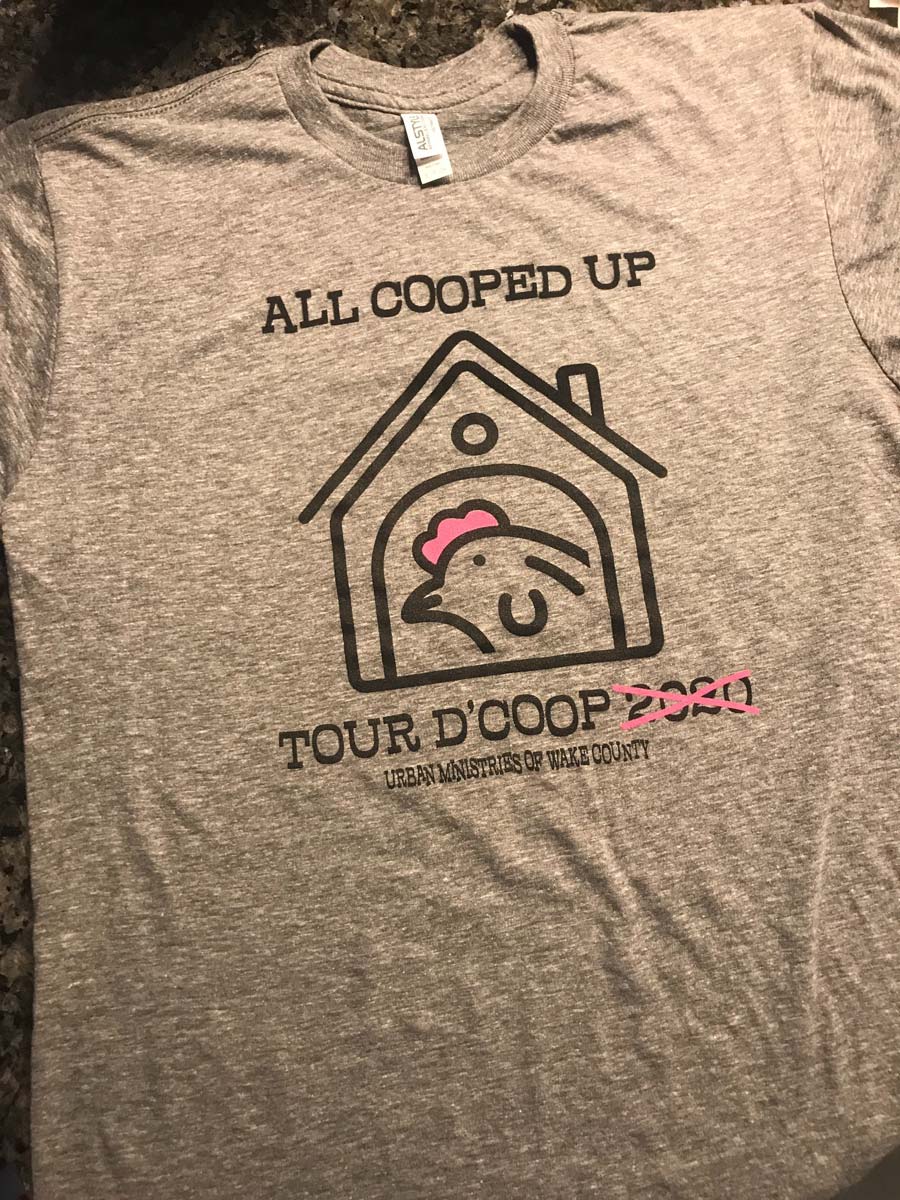 Although we had to cancel Tour D'Coop in 2020, we managed to come up with something special: A t-shirt to add to your collection while raising money for a good cause!
Order now
It is with much regret that we must cancel the 2020 Tour D'Coop benefiting Urban Ministries of County scheduled for May 30. We take the COVID-19 situation very seriously and want to ensure the safety of our coop hosts, volunteers, and community-at-large.
Anyone who has purchased a ticket may request a full refund by emailing Carrie Pitts-Densmore at cpittsdensmore@urbanmin.org OR you may choose to donate that money to Urban Ministries as we work to serve some of those who need it most during this crisis. Your donation is tax-deductible.
At the time of this writing, we are still operating our food pantry, clinic, and shelter – though with modifications. You can find out more at www.urbanmin.org.
Thank you for your continued support of Tour D'Coop and our mission.
Urban Ministries of Wake County and the Tour D'Coop Team
---
Highlights of the 2019 Tour included:
• Chicken coops throughout Raleigh, including downtown, Midtown, North Raleigh, West Raleigh, South Raleigh, Cary and Apex.
• Food and beverages available at some sites
• Several homes with bee hives as a part of our "Hive Hike".
• A coop raffle
• T-shirt sales at two coops
About the Tour D'Coop
This unique "Parade of Combs" features hens and coops tucked into the gardens of your friends and neighbors. All tour proceeds benefit Urban Ministries of Wake County. Urban Ministries serves more than 32,000 neighbors in need each year in its client-choice pantry, clinic, and shelter for women experiencing homelessness.
The Tour D'Coop is a one-day garden tour in Raleigh, North Carolina, that seeks to educate visitors about keeping hens and delight them with garden ideas and inspiration. Open to adults and children, the tour showcases various hen houses and breeds. Coop owners are on hand at each location to discuss the how-tos of chicken keeping and there are opportunities for photographing and getting to know the chickens. The wide variety of coop styles as well as the surrounding back yard gardens make the tour interesting for the whole family.
Please leave pets and companion animals at home; many hens are not accustomed to dogs.
We encourage tour participants to use a map app on their phone to get directions the coops on Tour day. The tour tickets only provide the coops' addresses and general location.
Please visit our sponsors